Camping Dinnerware
Camping Dinnerware
Great times with Mepal camping dinnerware. Good food and lovely drinks, nice and cosy. Set the table, make it festive and turn every meal into something special. It's those little moments that make it count!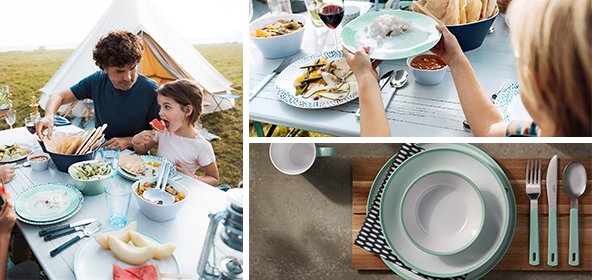 Camping dinnerware from Mepal will make your dinner table look even more inviting.
The camping dinnerware from Mepal not only looks great, it can also endure rough handling. Perfect for taking camping, for a picnic in the park or out in the garden. Thanks to the high quality, strong plastic it is also suitable for little children's hands. Allowing mum and dad to enjoy the lovely dinnerware even longer. Choose from modern prints or a stylish colour and feel free to mix and match!
The extensive range of Mepal outdoor dinnerware not only consists of breakfast plates, deep plates, mugs and coffee cups, but also of glasses, cutlery and camping bowls. Everything is stackable and dishwasher safe. Our dinnerware is also nice and light, extra strong, durable and guaranteed BPA-free. Are you looking for a new dinnerware set or want to complete your existing set, whatever you are after, Mepal has got it.