How handy, that lunch pot!
Won't leak in your bag
Available In 7 colours
Two leakproof compartments
Room for 500 ml yoghurt or soup
Enough space for about 75 gram of muesli or fruit
Can go in microwave and freezer
Dishwasher safe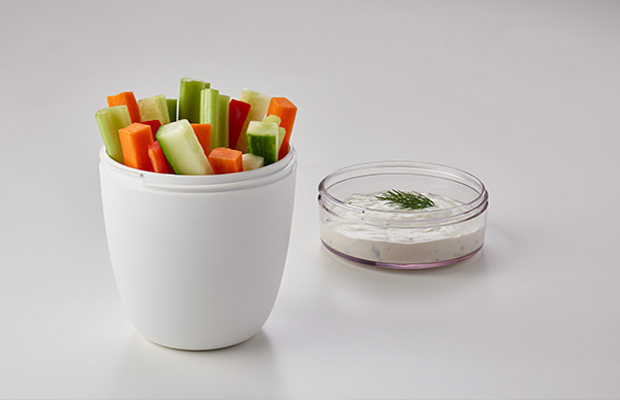 Lunch pot filled with goodness
A nice, healthy snack: pieces of cucumber, capsicum, carrot and celery. Made even taster with a fresh dipping sauce. Easy to make yourself! Just mix four table-spoonfuls of low fat yoghurt with 1,5 spoonfuls of mayonnaise. Add a pinch of salt, a little lemon juice and mix it all together with some fresh parsley. Enjoy!
our collection
What others say about the lunch pot
With a simple twist you can separate the two compartments and mix the different ingredients together. The perfect solution for avoiding a mess while mixing, super easy!
Kim
•••
www.mamas-mind.nl
I instantly became a fan. You can use it for so many different purposes. Handy! The bowl can go in the microwave and the entire bowl in the dishwasher and freezer, both boxes are leak proof and can hold quite a large quantity of food.
Desirée
•••
www.curvalicious.nl
I love it! Not just because of its lovely colour, but also because of it's great functionality. The handy lunch pot consists of two layers. This makes it easy to to carry (non-dairy) milk or yoghurt and take along the fruit and cruesli in the separate box. Because the pot can go in the microwave, you can also use it for heating up soup for instance, and take along the croutons separately in the little box. Ideal!
Anne
•••
www.moedersnatuurlijk.nl