Bread boxes
Bread boxes
The bread box keeps your bread lovely and fresh. For up to three days after purchase! And that is a good thing, because unless you have a large family, eating an entire loaf of bread per day is probably a bit much. You want to be able to enjoy a fresh loaf a little longer. Our boxes have airtight sealing so that your sandwiches stay nice and fresh longer.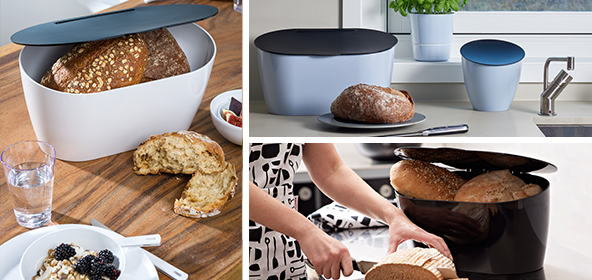 Your bread stays nice and fresh in a bread box!
We love our bread and Mepal knows you cannot do without a good bread box. Our boxes have an opening at the top, so that you can easily put the bread in and take it out. Thanks to its stylish design, it looks really smart on your kitchen counter!
This is how you can keep your bread fresh even longer
We have already given you the most important tip on how to keep your bread fresh. But there is more you can do to enjoy the freshness of bread.
Buy an unsliced loaf of bread, and slice off pieces when you need them.
Wrap the loaf, before you place it in the bread box, in a towel.
What to do with old bread? Great for making french toast!